Experience. Leadership. Success.
Bill Dussling is honored that the community has recognized his service to District 214 by re-electing him as a member of 214's Board of Education since 1998. During his tenure on the board, he has served as President and Vice President numerous times and is currently President.
Due to a business transfer, Bill and his family came to the Chicago area. Prior to his transfer he and his wife contacted the Illinois State Board of Education (ISBE) to find an area that had great schools for their children. Their recommendation was that the schools in the Northwest Suburbs were among the highest rated in the state and nation. Bill and his wife searched for a home in the area and found one in Arlington Heights in the District 214 schools' area. Bill says their three children received an outstanding education as students in District 214. As graduates of Buffalo Grove High School, they were well prepared for life and had successful college careers.
Bill as a 43-year resident of Arlington Heights. In that time, he has been a longtime volunteer at Arlington Height's Frontier Days, coached for years in the Arlington Heights Youth Basketball Program and continues as a lector at St. Edna Catholic Church. When his youngest child was attending Buffalo Grove High School, he became interested in how he might give back to the school community for the education his children received. There was an opening on the D214 School Board due to a resignation of a board member, he applied, and was selected to the board in 1998.
Bill's life experience includes six years of military service including service as a veteran helicopter pilot in Vietnam, and a variety of manufacturing, engineering, human resource, and labor relations positions as a manager in a large national corporation. Bill also founded and served as the Co-Executive Director of a national joint labor/management training and education program focused on providing a wide range of academic and job skills for more than 16,000 employees at locations across the country. He says, "I have always practiced consensus management principles to establish and achieve goals among diverse interest groups in order to conduct successful, quality education operations within budget guidelines."
During his service on the District 214 school board, Bill has received state and national accolades for his commitment to students. Those awards include the ISBE Award of Excellence, National School Boards Association's Distinguished Service Award, National Journalism Education Association's Friend of Scholastic Journalism Award, the Illinois Music Education Association's Legislative Award, and the District 214 Friends of the Arts Award. He also received the Illinois Directors of Student Activities Award for his commitment and support of all student activities, and he has been designated a Master Board Member by the Illinois Association of School Boards.
Bill is an ardent supporter of fine arts in the district and is proud to be a board member who supports programs that led District 214 to be a national leader in Advanced Placement, career certification programs, and dual credit courses. The class of 2021 earned more than 43,000 potential college credits through these programs and had over 6,500 students enrolled in Career and Technical Education (CTE) courses. In CTE students can choose from 44 programs of study, earn college credit and industry-recognized certifications gained through workplace learning experiences. Manufacturing and Engineering students work on state-of-the-art equipment that prepares them to work on the same equipment in their future careers.

According to Bill, "Understanding and participating in the district's outstanding education of students and how it affects and nurtures their lives is an incredible gift and a humbling reward for my time on the board. The students are our future – we must provide all students the best education and preparation to be successful after graduation."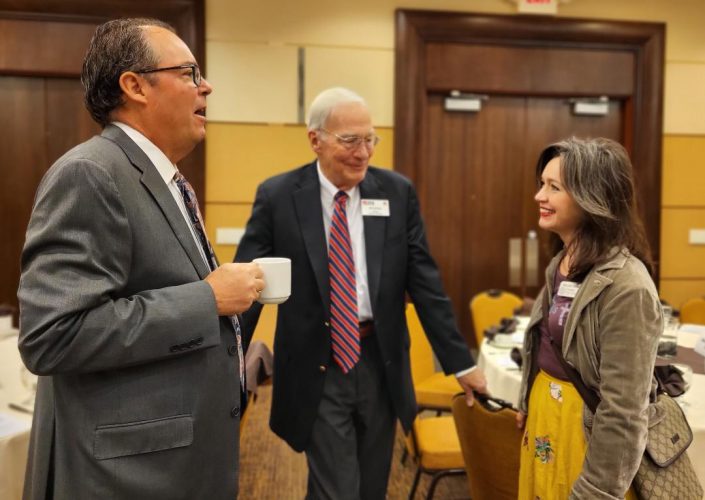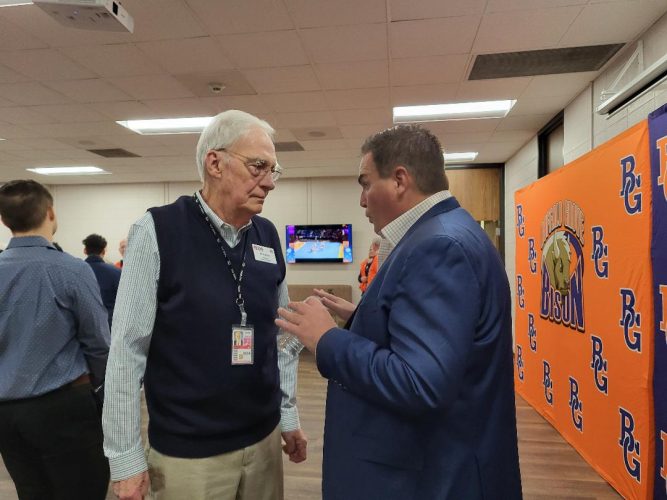 Alva J. Kreutzer has been a resident of Elk Grove Village (EGV) for over 42 years. Alva's community involvement is extensive, having volunteered for numerous organizations: EGV Community Service Board, EGV Zoning Board of Appeals, PTO president of Admiral Byrd and Grove Jr. High. She also served for four years on the Community Consolidated School District 59 Board of Education. She is an active member of the EGV Lions Club and EGV Historical Society. Alva has received recognition awards for her volunteer work from the Kenneth W. Young Center, Omni Youth Services, and the Village of Elk Grove Village, and was recognized as a Harper College Distinguished Alumna in 2016.

Alva is a former CHARACTER COUNTS! Program Coordinator and Juvenile Delinquency Prevention specialist for the Village of Itasca and the Wood Dale Police Department. She is a retired school administrative assistant.

Alva has served as a District 214 Board of Education Member since 1999, including serving two years as Vice President. In recognition of her service to the Board, the Illinois Association of School Boards (IASB) has awarded her with Master Board Member status. She has also been recognized as a Legacy Board of Education member by IASB and has received the National School Boards Association Award for Distinguished Service to Public Education. She currently serves as the district liaison to the IASB and ED-RED (an educational lobbying group).

As D214's IASB delegate for the past 17 years, Alva represents the district at the annual Delegate Assembly where delegates from around the state gather to discuss resolutions which may become advocacy items for IASB before the Illinois legislature. As some resolutions have become law, Alva takes seriously her position as a contributing voice in future Illinois education law.

Currently, Alva is the Director of IASB's North Cook Division, comprised of 39 school districts. As Director, she supervises and directs the affairs of the Division, as well as formulates and implements its policies. Being a North Cook Director, as well as D214's ED-RED point person, gives her the opportunity to be on the forefront of legislative and legal issues both locally and around the state.

As the past two years have shown, learning loss has been and will continue to be, a major focus to District 214 students. For Alva, a continuing assessment of what works well, as well as things that could be improved, will be a constant focus. Alva's promise to residents is that she will continue to focus on our students, evaluate issues thoroughly, and keep in mind that most of our residents do not have students in school. This equates to keeping an eye on the budget.

Kreutzer attends local municipal Tax Increment Financing (TIF) annual meetings. The meetings are a chance to review the health of a TIF and to be a voice in future TIF discussions. With almost two dozen TIF districts in D214, it's critical to have a voice in these meetings.

Alva's two children are graduates of Elk Grove High School. In her spare time, Alva loves reading history, is an avid golfer, and is the current historian for her family.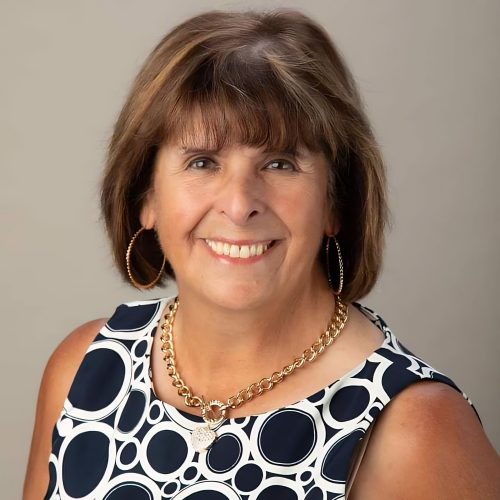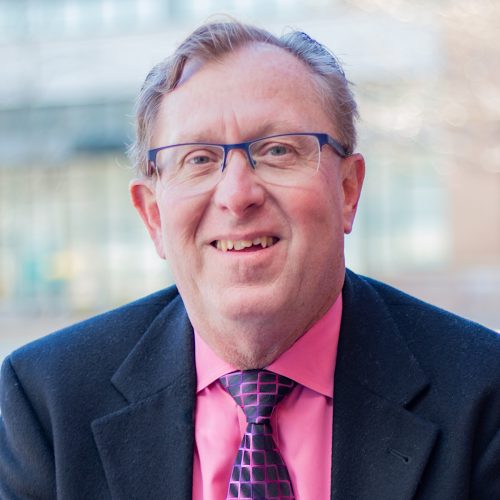 A passionate believer in the ability of our area students, Frank Fiarito has served on the River Trails School District 26 school board for 12 years. While on the D26 Board, he has served as both the Board President and Vice President. He has led two successful contract negotiations with the teachers' union during his tenure. Frank has also served on the North Suburban Special Education Organization board – to which both Districts 26 and 214 belong – for 8 years, and served as both President and Vice President over his 8 years. Frank led two successful contract negotiations with the teacher's union during his tenure on NSSEO's Board. He is currently chairman of the Illinois Association of School Boards North Cook Division, and he has served the North Cook division for the past 6 years.

Frank is always visible in both the schools and community. He has served on the River Trails Music Boosters Association for the past 6 years, the last two as Treasurer. Frank has also volunteered his lunch hour for the past two years to help the Prairie Trails kindergarten class with playground and lunchroom assistance. He can be seen regularly on the playground playing music, kicking a soccer ball, throwing a football, climbing the wall, and entertaining the children. He loves leading the children in singing Happy Birthday when a child has a birthday in the lunchroom.

Frank and his wife Christine have lived in Mount Prospect for 24 years. They have a son, Antonio, who is a graduate of John Hersey High School and is currently studying at the University of Illinois at Urbana-Champaign. His daughter Isabella is a senior at Hersey, was captain of the swim team, and plays water polo. His youngest child, Sofia, is an eighth grader at River Trails Middle School where she is a swimmer on the District 214 feeder team CORE and is involved in the performing arts at River Trails Middle School and the Metropolitan Arts Center. Christine is involved in their church, St. Emily.

Frank also coached park district soccer for 13 years for his oldest and youngest children. He is heavily involved in the swim programs that all three of his children swim in. He is an avid golfer and served as President of the not-for-profit Northern Illinois Men's Amateur Golf Association for 10 years and continues to serve on their board today. Frank is the current President of the Brentwood Homeowners Association, the sub-division in which he lives.

Recognizing the incredible schools in the D214 area and wanting to grow the impact they have on our students' lives, Frank is proud to join the Friends of District 214 slate in running for the D214 School Board. With his youngest soon to be in D214, Frank believes adding the perspective of a parent with a child in the district will add valuable insight to the board.